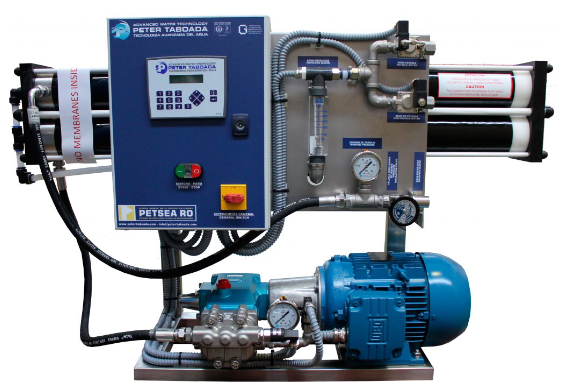 Discover PETSEA RO SW-Y Reverse Osmosis Water Purification Systems
Engineered to withstand the most demanding conditions in marine and industrial environments, the PETSEA RO SW-Y reverse osmosis systems redefine water desalination, setting a new standard in reliability and performance.
Key Features:
Robust Design for Harsh Environments:
Designed to endure the toughest operating conditions, ensuring resilience in marine and industrial settings.
High-Quality Water Standards:
Produces water of the highest quality standards, ranging from 1.8 m3/day to 20 m3/day.
Certifications:
ISO 9001 certified, attesting to the system's commitment to quality and performance.
Ease of Use and Maintenance:
Fully automatic operation for user convenience.
Simple design for straightforward maintenance.
Low maintenance requirements for sustained performance.
Frama completely made in polished stainless steel AISI 316, ensuring durability.
High Efficiency:
Impressive 98.6% salt rejection rate.
Potable water production, meeting stringent quality standards.
Option to install an energy recovery system for enhanced efficiency.
Control Panel Pilot Lights:
Potable water indicator.
Non-potable water indicator.
Low feeding pressure alert.
Feeding pump failure notification.
High-pressure pump failure alert.
Feeding pump start/stop switch.
High-pressure pump start/stop switch.
Flexibility:
Mountable on ships or offshore platforms.
Customizable size and control options.
Various power frequencies available, accommodating diverse environments.
Optional remote monitoring for enhanced control.
Pre-treatment for all kinds of feeding water, ensuring adaptability.
PETSEA RO SW-Y Reverse Osmosis Systems seamlessly merge durability, efficiency, and adaptability. From robust construction to easy maintenance and high efficiency, this system is engineered to deliver pure, high-quality water in the most challenging environments. Choose PETSEA RO for a reliable solution that meets and exceeds your water desalination needs.
| | | | | | |
| --- | --- | --- | --- | --- | --- |
| Specifications | 10/18 SW-Y | 20/34 SW-Y | 30/52 SW-Y | 60/80 SW-Y | 80/90 SW-Y |
| Capacity | 1 – 1.8 m3/day | 2 – 3.4 m3/day | 3 – 5.2 m3/day | 6 – 8 m3/day | 8 – 9 m3/day |
| Height | 675 mm | 675 mm | 675 mm | 750 mm | 750 mm |
| Width | 1.191 mm | 1.191 mm | 1.191 mm | 1.367 mm | 1.400 mm |
| Depth | 260 mm | 260 mm | 260 mm | 340 mm | 500 mm |
| Dry Weight | 55 KG | 55 KG | 55 KG | 107 KG | 170 Kg |
| Maximum Power | 2.8 kW | 2.8 kW | 2.8 kW | 3.5 kW | 7.3 kW |
| Feed | ¾" | ¾" | ¾" | ¾" | 1" |
| Rejection | ½" | ½" | ½" | ½" | ½" |
| Potable water production | ¼" | ¼" | ¼" | ¼" | ½" |
| Non-potable water production | ¼" | ¼" | ¼" | ¼" | ½" |
Larger models up to 5000m3 available
For all units
| | |
| --- | --- |
| ISO | 9001:2000 |
| Minimum salt rejection rate | 98,6% |
| Minimum Seawater pressure | 1 KG/ cm2 |
| Maximum operation pressure | 70 KG/ cm2 |
| Maximum inlet water pressure | 6 KG/ cm2 |
| Minimum seawater temperature | 2° |
| Maximum seawater temperature | 40° |
| Maximum seawater salinity | 40.000 PPM TDS |
| Maximum prefiltration | 5 Micron particles |
| Optional maximum prefiltration | 1 Micron particles |