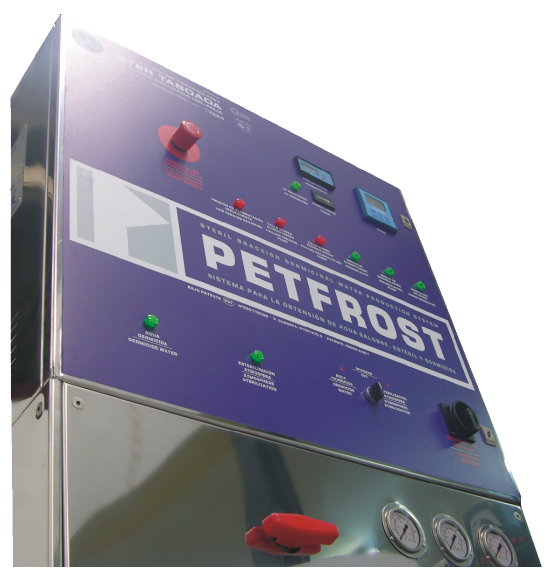 Introducing PETFROST Germicidal Water Production System
Ensure the safety and longevity of your fresh products with PETFROST, a revolutionary food safety system designed to significantly reduce bacterial loads through the power of sterile water with germicidal properties. PETFROST merges advanced water treatment, advanced oxidation processes, and a patented triple-reactor recirculation system to accomplish its mission effectively.
Key Technologies:
Advanced Water Treatment: Elevate your food safety standards with cutting-edge water treatment technology.
Advanced Oxidation Processes: Harness the power of advanced oxidation for thorough bacterial reduction.
Triple-Reactor Recirculation: PETFROST introduces a proprietary triple-reactor recirculation system, setting new benchmarks in efficiency and effectiveness.
Applications:
PETFROST is adaptable to a variety of industries and products, including Fish, Shellfish, Bivalves, Cephalopods, Meat, and Poultry. Its versatile applications include:
Washing of fresh products
Cleaning of processing equipment
Sanitizing packing materials
Production of germicidal liquid ice
Generation of germicidal flake ice
Creation of germicidal mist for storage rooms
Results:
PETFROST delivers comprehensive reductions in both pathogenic germs and bacteria, ensuring the safety and quality of your products.
Advantages:
Extended Freshness: Products remain fresh for longer durations.
Increased Trade Routes: Achieve substantial increases in the trade route of vacuum-packaged and atmospherically amended products.
Versatility: Applicable across a range of seafood and meat products.
Low Operational Costs: Cost-effective solution for food safety.
Harmless for Human Consumption: Tested and approved by reputable institutions, including the Marine Products Technology Centre, CETMAR, and Analytic Center Miguez & Muinos.
PETFROST not only enhances the safety of your food products but also extends their shelf life, offering economic benefits and peace of mind. Trust in the tested and approved efficacy of PETFROST for a reliable and advanced germicidal water production solution.
| | | | |
| --- | --- | --- | --- |
| Specifications | Petfrost Model 3.0 | Petfrost Model LT 5.0 | Petfrost Model LT 7.0 |
| Capacity | 3 m3/hr | 5 m3/hr | 7 m3/hr |
| Height | 1.615 mm | 2.150 mm | 2.150 mm |
| Width | 880 mm | 880 mm | 880 mm |
| Depth | 1.130 mm | 1.130 mm | 1.130 mm |
| Dry Weight | 350 KG | 400 KG | 400 KG |
| Produced water ozone concentration | 900 mV | 1.050 mV | 1.050 mV |
| Freshwater inlet | 1" | 1¼" | 1¼" |
| Seawater inlet | 1″ | N/A | N/A |
| Outlet | ¾" | 1¼" | 1¼" |
| Maximum inlet pressure | 3 bar | 3 bar | 3 bar |
| Germicidal water pressure | 3-4 bar | 3-4 bar | 3-4 bar |
| Feeding air pressure | 7 bar | 7 bar | 7 bar |
| Power consumption | 6kW | 6kW | 6kW |
| Noise level | 75dB | 80dB | 85dB |
| Application field | Offshore | Shore | Shore |
For all Units
| | |
| --- | --- |
| ISO | 9001:2000 |
| Micrometric Filtration | All |
| Sand Filtration | LT 5.0/7.0 |
| Carbon Filtration | LT 5.0/7.0 |
| Housing | 316L |
| Three phase power options | 400V, 460V and 600V |
| Frequency | 50 or 60 Hz |